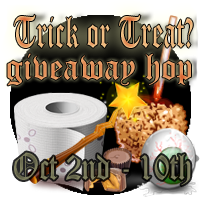 Trick or Treat! It's almost Halloween, and free & frugal mommy of one has joined up with over 30 other blogs to bring you the 'Trick Or Treat' giveaway blog hop!
Each participating blog is offering a package worth $50 or more, but, here's the catch:
You won't know what it is, or if you're getting a Trick, or a Treat, until you receive it!
To enter for the prize package I am giving away, simply fill out the rafflecopter form below, then when you're finished, hop on over to the other blogs and enter theirs too!
Happy haunting!
...